As a homeowner, you will agree that the foundation of your house is important to keep the structural integrity of your home. Without the foundation, you won't have a house in the first place. Hence, you can't afford to have foundation damage. However, foundation damage can happen due to several reasons which will require efficient foundation repair Midland services. At Crack Busters Water Proofing Co., we provide professional foundation repair services to you.
But do you know how much it costs to get foundation repair Midland services? Our experts have divided the repair process into different segments based on the cost. Let's see what they had to say.
The foundation repair will start with a foundation inspection. Our professional will take a look at the damage and determine the best course of action for the problem. The inspection will cost you around $300. Maybe you are just buying a new house and need a foundation assessment. Our professional will certainly do so!
Non-Structural Crack repair
Due to large fluctuation between moisture during wet and winter days, non-structural cracks occur. This is a kind of foundation repair Midland service that will require an epoxy injection to fill the cracks. A professional service will cost you between $950 – $2650.
Structural cracks are caused due to large temperature fluctuations during wet and winter days. These types of cracks are dangerous to the structural integrity of the house. Repairing these cracks will require a mix of epoxy injections and carbon fibre countersunk staples. A professional service will cost you between $1200 – $1700.
Exterior foundation crack repair
These cracks occur due to water, back fill, and root issues. Such foundation repair Midland will require excavating a part of the foundation, to repair the cracks. This will include hydraulic cement, carbon fiber countersunk staples, and a waterproof membrane. The service cost for exterior foundation crack repair starts from $5000.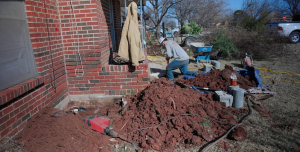 Now that you know the average cost of foundation repair, you must make sure that you maintain the foundation in the right condition. However, if you need professional foundation repair Midland services, you can get in touch with us at Crack Busters Water Proofing Co. right away. We have been providing the highest quality foundation repair services in the region. We also provide basement repair, basement waterproofing, and more such home improvement services.
Call us now to know more.