Have you decided to take a DIY approach for the latest home improvement project? If so, you are not alone! Several homeowners choose to use the DIY approach for smaller home improvement projects such as masonry work Barrie. Whether it is a retaining wall or fireplace repairs, homeowners want to do it on their own. And we understand why you might want to use the DIY approach. Maybe you want to save money or maybe you want to become more self-sufficient. However, let us tell you that sometimes the DIY approach doesn't provide the desired results.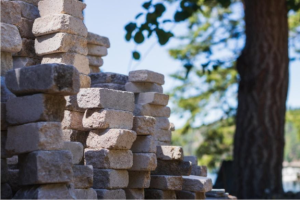 And there are several mistakes that you can make while doing DIY masonry work in your home. Here's what usually goes wrong in this scenario. 
Mortar and Old Bricks Waterproofing
If you didn't know this already, a lot of masonry work includes masonry repair Barrie tasks. This includes using old bricks and mortar. However, one of the biggest mistakes that homeowners make is waterproofing the mortar and old bricks. And the thought is to extend the lifespan. But if you ask experts, they will advise against it. When you waterproof old bricks,the existing moisture gets trapped in them. This moisture makes the bricks lose their integrity. So, make sure to avoid this mistake. 
Yes, that's right! There are different types of mortar and bricks in the market that are used to build different structures. Each brick and mortar type has different compatibility. So, on one hand, one type of brick and mortar combination may work, it may not on the other. Using the wrong combination can affect the structural integrity of the wall and it can fall causing damage to the structure and people. 
Wrong Flashing Techniques
Bricks can accumulate water damage over time. Hence, they must be protected using the right flashing techniques. And different things can go wrong with flashing bricks. The most common mistake people make during flashing bricks is leaving larger space in between weep holes. This can affect the ability of weep holes to remove moisture and provide sufficient airflow in the structure. 
Bottom Line
Although you want to take up a DIY approach to masonry work, certain things can go wrong if you don't have the experience. Hence, you may want to call our professional team at Crack Busters Water Proofing Co. for efficient masonry work and repair services. We are a professional, licensed, certified, and experienced team that offers different construction services such as masonry work, masonry repair, basement waterproofing Barrie, foundation repair, and more. 
To avoid any DIY mistakes and get the best results, contact our team right away.