Living in Canada long enough, you already know how harsh the winters can get. Temperatures can drop below zero degrees Celsius with dropping even more to -30 to -40 degrees Celsius. No wonder people call Canada the great white north! Now, you might enjoy some time playing with snow, it generally causes a lot of nuisances, especially to the structural integrity of your house or commercial building. Masonry repair Barrie becomes imminent for building after a Canadian winter.
At Crack Busters Water Proofing Co., we offer professional masonry repair Barrie services to residential and commercial buildings. However, over the years, we have realized that most property owners neglect the need for masonry work after winter. If you are also thinking of going down that road, just take a step back. Read how winter affects the structural integrity of your building thus making masonry repair Barrie a must.
The constant freezing and thawing of ice and snow can cause major damage to the structure of your house. The freeze-thaw cycle will result in water generation that will seep into the walls due to failed mortar joints. This will cause the paint and surface to crack and peel off. If you neglect this issue, your wall will eventually collapse. Hence, you must get professional masonry repair Barrie services. The professional will fill the joints with fresh cement reducing the damage.
To remove the snow and ice, you might use de-icers. On one hand, they make it easier to remove snow and ice, they also cause damage. Most de-icers use salt. Once the snow melts, the salt travels with this water to the bottom of the structure. Eventually, the water evaporates leaving behind salt that recrystallizes creating a white stain. This stain starts putting pressure on the foundation of the building affecting the masonry of the structure. To avoid the collapse of your foundation, getting timely masonry repair Barrie is crucial.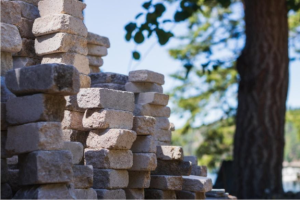 As you can see, harsh winters will damage your building. And you certainly don't want that! Therefore, you mustn't neglect any such damage to your house. Hence, you must get in touch with us at Crack Busters Water Proofing Co. We have been offering masonry work, foundation repair, wet basement repair, and more to residential and commercial buildings in the region. Our professionals are equipped with the latest formulations and tools to provide top-notch quality services.
Contact us now to know more about our masonry repair services.